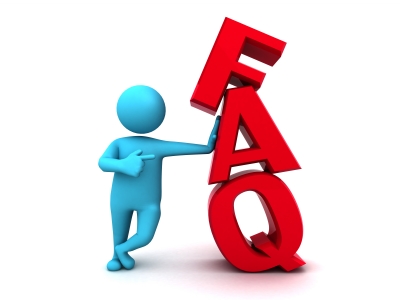 Look through our most commonly asked questions here. If you have a question we haven't covered, by all means give us a call at 330-336-1893 or send us an e-mail at info@jarvisseptic.com !
My drains are backing up into my basement, do I need my septic tank cleaned?

This could be caused by several different problems. If you have a septic tank, the problem could be:
a) A blockage in a sewer line from your house to your septic tank, somewhere in your septic system, or in your basement;
b) A sump pump not working;
c) A filter plugged;
d) Septic tank does in fact need cleaning, possibly from waiting too long between cleanings. The best way to approach this problem would be to call for service to have us diagnose and correct the problem. In most cases, the septic tank does not have to be cleaned first.
How often should I have my septic tank cleaned?
Although many people still clean their tanks yearly to extend the life of the leaching system and avoid unexpected problems and backups, tanks should also be cleaned based on percentage of solids. Most of the companies which manufacture aeration systems recommend cleaning them at least every 3 years. Yours system (any type) may need cleaned more often if 4 or more people live in your home, or if you entertain frequently or have visitors often.
Can you clean my septic tank in the winter months?

Yes. There's no problem as long as the temperature is above 10°-15°. Temperatures colder than that cause problems with freezing in the truck valves. Also it is important to have your driveway cleared of ice and snow.
How long does it take to clean the septic tank?

Usually less than an hour for one septic tank. The small tanks may not take quite as long as the larger ones.
Depending on the distance from the driveway, it may require extra hose which takes additional time.


How far in advance do I need to schedule a septic tank cleaning with you?

We usually schedule between 1 and 5 days in advance, but during the summer it may be 2-3 weeks. If you have an emergency, we try our best to work you in on the same day.
Do I have to be home when the septic tank is cleaned?
We prefer the homeowner to be present when services are performed to see what a fine job our serviceman does, how knowledgeable he is, and to answer any questions you may have. Also, if any problems are evident they could be explained to you along with recommendations on how to correct them. We prefer payment at the time of service, in the form of cash, check, Visa, Mastercard, or Discover.
Do you offer 24-hour service?
We currently do not offer 24-hour service due to our lack of manpower. After-hours and weekends are also reserved for any needed maintenance and repairs, upkeep to the equipment, and preparation for upcoming jobs. However, we always try to accommodate our regular customers if at all possible.
What are your normal business hours?

The office is usually open for scheduling appointments from 8:30 a.m. - 4:00 p.m. If we're unavailable, please leave a message on the machine and we'll call you back as soon as we can. However, service to customers usually begins at daybreak, which is generally around 7:00 a.m. We like to schedule service starting no later than 3:00 p.m. to allow service to be complete before dark and allow our poor, overworked serviceman a few hours off. However, we try our best to finish up every customer on the schedule for that day, regardless of the fact that it may be after 3:00.

Do you do any new septic tank installations?

We are currently not offering any septic tank installation services, but a call to our office can provide you with several local, reputable excavators.

Will you send me a reminder when it's time to clean my septic tank?
Certainly! See our Reminder Service page or simply call the office or tell the serviceman when he's at your house, and we'll be glad to send you a notice or give you a call when it's time to clean your tank again. Time does not always allow reminders to be sent out to everyone, only those who request to be put on the list.
Which Counties in Ohio are you licensed in?

We are licensed to clean septic tanks in the Counties of Medina, Wayne, and Summit. We may not cover all of Summit and Wayne County.
Can you quote me an exact price over the phone, and would there be extra charges for finding the tank, digging up the lid, or extra hose?
Prices for the tank cleanings are based on the gallons removed from the tank. There are various sizes ranging from 200 gallons to 2000 gallons for a single tank. Assuming that your tank is not overfull, and is operating at the proper working level, we may be able to give you an exact price over the phone if we can determine what type of system you have, or if we've been to your house before. If not, certainly a range in price can be given. If the tank were overfull, we would be removing more gallons than the normal operating capacity, hence the price would be higher than the normal price. You may be able to verify the size of your tank with the local health department or in the paperwork where you bought your house. If the tank is visible or can be found within 5-10 minutes, is not deeper than around 2-12 inches, and is not 100 feet or more from the truck, then there are no other extra charges.