We do offer some limited water jetting services. Others we can refer you to a competent contractor who can help you. Please give us a call and let us know your issue and we'll see what we can do for you!

If you're having problems with your septic system and just don't know where to start, we can help! Call for an appointment to have it checked out.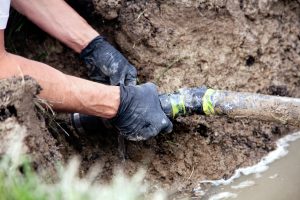 Riser, bringing lid to ground level

There may be occasions when you need a baffle installed in your septic tank, a riser installed, a line repaired or a distribution box repaired, etc.
We can sometimes help with these issues also, please call!

LIDS:
There are many sizes and configurations on lids, we usually have some in stock. If you are looking for a lid, please take measurements, see if the manufacturer's name is on the lid, and give us a call, and we'll see if we have something for you, or we can give you recommendations on where to get them.
AERATOR SHAFTS:
We sometimes have used shafts available, or we can order you a new one. Call for pricing!
USED AERATORS:

We occasionally have used aerators in stock, please call to inquire about these!
We do offer troubleshooting, repair, and replacement of control panels for your septic system. Call Gene for pricing and information